SheFit Sports Bra Review
I don't know about you, but I've struggled to find a good sports bra. It's especially difficult to find a decent high impact sports bra for bigger busts. I'm so excited to share with you this SheFit sports bra review!
It's comfortable, it's adjustable, it's durable, and the days of me wearing two bras when working out are OVER!
Keep reading for all the information you need about this amazing sports bra!
This post contains affiliate links, which means I receive a commission when you make a purchase through one of these links. As an Amazon Associate I earn from qualifying purchases. For more information, check out my disclosure.
So, you're probably wondering…what is it?!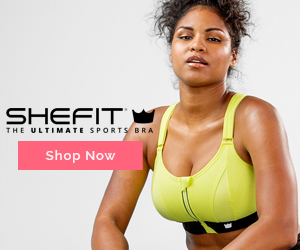 Okay, so let me give you a little bit of background on my situation. Let me know in the comments if you can relate.
I'm a pretty average chick, I am NOT an athlete by any means. I like to try different workouts and see what sticks for me (so far my tried and true workouts are Zumba and cycling…indoor cycling, stay tuned for when I try a jump rope challenge…which probably won't be any time soon since I've been thinking about it for over a year).
So anyway, the point of all that is I plan to keep reviewing different workouts I try.
Now, I also have a sports bra issue where:
1) I don't like how everything gets smushed together
2) I don't feel like anything is supportive enough unless it has cups, and…
3) I would wear an old, regular bra with a standard sports bra over it…talk about uncomfortable when you sweat! But, it was the only way I felt fully supported.
I have tried other sports bras that are said to be good for bigger busts.
Ones with cups and underwire. Some that go by band/cup size instead of S/M/L/XL. They've been just okay, and at the end of the day the wires popped out (way too early in my opinion), or I've actually preferred the two bra method (I know, it's crazy)
So, when I found the SheFit sports bra, I was a bit skeptical. Could this really solve all my problems? YES!
Okay so let's get into the details.
A SheFit sports bra is an awesome high impact sports bra that is very customizable.
They call the customizing "zip, cinch, lift." And that's literally all there is to it!
It has a front zip (no hooks or clasps!), and little flaps that go over the zipper so you don't have a chunky looking zipper and it doesn't bother you while you're working out.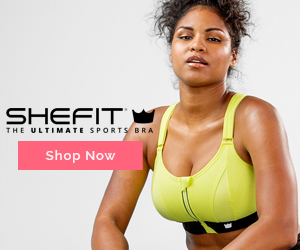 The band has velcro across it so you can tighten or loosen it. This is extremely easy to do quickly, and this is the "cinch" portion. Here's an example:
I went to the gym and I had it very, very snug. It was comfortable until I started sweating and breathing heavier during my workout. I was able to very quickly reach back and adjust the fit by loosening it a little bit, then back to my workout!
Seriously. So easy.
The straps that go over your shoulders also velcro. This is what enables you to lift, and are just as easily adjustable as the band.
SheFit Sizing & Fit
I was honestly a little nervous abut the sizing, because I find that EVERY company is so different, and one size from one place doesn't mean that size at another will fit the same.
The first size I ordered fit PERFECTLY!
SheFit has their own unique size chart.
There are four different options for determining your sizing. I used two, just to be safe and make sure I was ordering the correct size.
First, I took my measurements. They have photos on their website to show you exactly where to measure. Plus, it's super quick and easy, you only need two measurements: your bust and rib cage.
After the two measurements, I knew what size I should be getting, but I wanted to double check.
Ready to check out SheFit sports bras? CLICK HERE!
So next, I used their traditional size chart.
On the traditional size chart you find the bra size you usually wear and it will line up with the SheFit size you'd wear.
SheFit sizes are X-Small, Medium, Large, Luxe, 1Luxe, 2Luxe, 3Luxe, 4Luxe, 5Luxe and 6Luxe.
SheFit accommodates cup sizes A-I!
The other sizing options are a video fitting and a quiz.
The quiz is super short, and takes about a minute.
The video fitting entails scheduling a 15 minute time slot to speak with a customer service rep from SheFit to help you determine sizing over a video conference.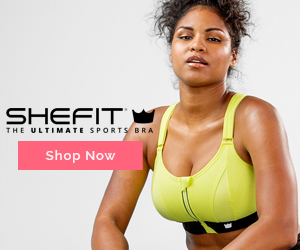 Is the

SheFit

supportive?
Yes! It's super supportive, and I don't at all miss my old method.
There are two options for bras, one is the Ultimate, which I have and is intended for high impact.
I use the Ultimate for pretty much everything – weight lifting, yoga, Zumba, cycling, etc.
They also have the Flex. The Flex is intended for medium impact. I plan to buy the Flex next to try it out…so stay tuned for that to be added to the review!
Is the SheFit Ultimate Sports Bra Comfortable?
Yes! It's very comfortable, and having the option to customize it even further by adjusting the band and straps is very helpful for comfort.
Before buying, I did read some reviews that found the velcro uncomfortable. The reviews mostly discussed the velcro getting scratchy if not placed correctly.
I can see where this might be an issue, but I can say that I personally have NOT had this problem AT ALL.
Ready to check out SheFit sports bras? CLICK HERE!
SheFit Sports Bra Style
I love that the SheFit Ultimate and Flex both come in a variety of colors! Some have patterns on part of them as well.
Style wise it should work well under most workout tops. The bra can be adjusted to be an H back or X back, which will make it work under pretty much every kind of shirt or tank!
Another thing to note about the style is there are no cups. I tend to prefer and have tried other sports bras that did have cups, but I do NOT find this a problem AT ALL!
The reason I preferred cups was because I felt more supported. However, I don't miss them and with how adjustable the bra is, I'm able to adjust it to a point where I feel the same amount of support, or better, as if the bra had cups.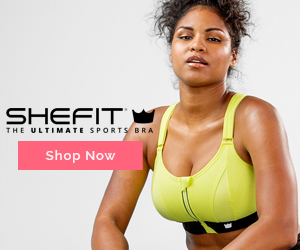 Where to Buy a SheFit Sports Bra
You can buy the SheFit Ultimate or SheFit Flex on their website, just click here!
The website is super easy to use, you have easy access to figuring out sizing, and the checkout process is smooth.
Aside from sports bras, they also sell leggings and a few other accessories!
Ready to check out SheFit sports bras? CLICK HERE!
How Do You Wash a SheFit Bra?
Something I really love about SheFit is that they send you a laundry bag for the bra when you purchase it!
It's recommended to hand wash, but if you'd rather machine wash it you can put it in the laundry bag they provide. Just make sure the zipper is zipped and the band and straps are velcroed (is that a word?) in place before you put it in the laundry bag.
Wash it on your gentle or delicate cycle. Don't put it in the dryer! Lay it flat and let it air dry.
Other Articles You May Like:

Zumba Review

Hunt A Killer Game Review

The Ultimate Guide to Deep Cleaning Your Home
SheFit Rewards
ANOTHER super cool thing about SheFit is their rewards program!
You earn points (or crowns) on purchases and for doing various other things like following them on Facebook and Instagram.
You also earn crowns by referring your friends to SheFit! When you create a rewards account you will receive a referral code you can give to your friends.
When a friend purchases a minimum of $65 through your referral link, you will receive 100 crowns and they will get $10 off their purchase.
You can then use your crowns to get discounts on your next purchase!
Ready to check out SheFit sports bras? CLICK HERE!
Check out this article for why it's important to wear a sports bra when you workout!
Let me know in the comments below if you have tried the SheFit and how you like it!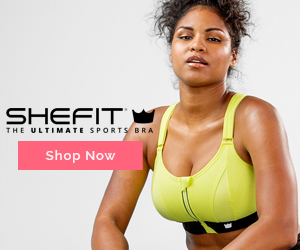 Other Articles You May Like:

Zumba Review

Hunt A Killer Game Review

The Ultimate Guide to Deep Cleaning Your Home
SheFit Sports Bra Review